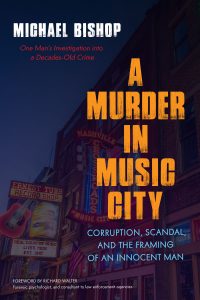 Join us at the Maury County Public Library on Thursday, November 29th at 6pm for a discussion and signing with Michael Bishop, author of "A Murder in Music City".
Nashville 1964. Eighteen-year-old babysitter Paula Herring is murdered in her home while her six-year-old brother apparently sleeps through the grisly event. A few months later a judge's son is convicted of the crime. Decades after the slaying, Michael Bishop, a private citizen, stumbles upon a secret file related to the case and with the help of some of the world's top forensic experts–including forensic psychologist Richard Walter (aka "the living Sherlock Holmes")–he uncovers the truth. What really happened is completely different from what the public was led to believe. Now, for the very first time, Bishop reveals the true story. In this true-crime page-turner, the author lays out compelling evidence that a circle of powerful citizens were key participants in the crime and the subsequent cover-up. The ne'er-do-well judge's son, who was falsely accused and sent to prison, proved to be the perfect setup man. The perpetrators used his checkered history to conceal the real facts for over half a century. Including interviews with the original defense attorney and a murder confession elicited from a nursing-home resident, the information presented here will change Nashville history forever. -Publisher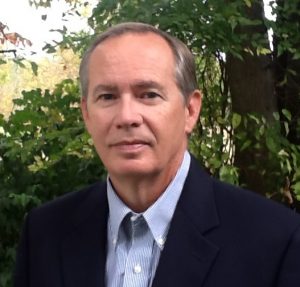 About the Author:
Michael Bishop was born in Gadsden, Alabama and had the good fortune to grow up on a small farm nearby. He earned a Bachelor's degree from Freed Hardeman University in Henderson, Tennessee and a Master's degree from the University of Tennessee – Knoxville.
In 1997, Michael accidentally discovered a hidden file in Nashville's Metro Archives that contained information about a legendary babysitter murder from 1964. Realizing the potentially explosive nature of the contents, he quietly launched a multi-decade private investigation and eventually consulted with top forensic experts while working on the mystery in his spare time. The manuscript about his journey was picked up by a New York Literary Agency and a New York publisher purchased the North American rights to the book.
Books will be available for purchase at the event or beforehand at Duck River Books. If you are unable to attend the event and would like a signed copy, please call Duck River Books at 931-548-2665.
For more information on the book or to order online, visit:
https://shop.duckriverbooks.com/book/9781633883451
The audiobook of A Murder in Music City is available at:
https://libro.fm/audiobooks/9781977381873-a-murder-in-music-city